9th Annual Henkin Lecture on Human Rights
"Human Rights and Democracy in a New Era"

Featuring:

Juan E Méndez
Professor of Human Rights Law in Residence, Washington College of Law

The inauguration of a new administration – but more significantly the dramatic events that preceded it – gives rise to new opportunities to promote and protect human rights and democracy as a central element of United States foreign policy. This lecture will explore how the US can (re)establish its credibility on the global stage, and serve as a force for progressive change and a champion of justice, fairness, inclusion, and equality.

Thursday, February 11, 2021
12:30 PM - 1:50 PM
via Zoom


Register Now


Louis Henkin, the prominent law professor at Columbia University School of Law, was one of the founders of the academic study of human rights and inspired a whole generation of human rights lawyers, scholars, and activists, including some of Miami Law's professors. In 2011, Miami Law created this lecture series in his memory.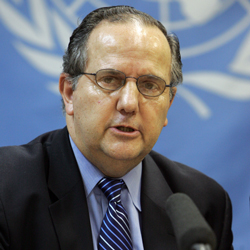 Juan E. Méndez is a Professor of Human Rights Law in Residence at the American University – Washington College of Law, where he is Faculty Director of the Anti-Torture Initiative, a project of WCL's Center for Human Rights and Humanitarian Law. He is a member of the International Group of Independent Experts (GIEI) that investigates de acts of violence in Bolivia between September and December of 2019. In July 2020 Mr. Mendez started a three-year term as a member of the Board of Trustees of the UN Voluntary Fund for the Victims of Torture. He was the UN Special Rapporteur on Torture and Other Cruel, Inhuman and Degrading Treatment or Punishment between November 1, 2010 and October 31, 2016. The Honorable Kofi Annan named Mr. Méndez his Special Advisor on the Prevention of Genocide, a task he performed from 2004 to 2007. Between 2000 and 2003 he was a member of the Inter-American Commission on Human Rights of the Organization of American States and served as its President in 2002.


Register Now


This email was sent to you by the University of Miami School of Law.
If you are having trouble viewing images, view this email as a webpage, and add us to your address book.
© 2021 University of Miami School of Law
1311 Miller Drive, Coral Gables, FL 33146
E-mail: events@law.miami.edu
All rights reserved | Our Privacy Policy