8th Annual Louis Henkin Lecture on Human Rights

Featuring:
Catherine Powell
Professor of Law, Fordham University School of Law

"Race, Gender, and Nation in an Age of Shifting Borders"

This lecture will explore two common tropes in the current immigration debate – the "welfare cheat" and the "criminal" – to demonstrate how these narratives shape legal constructs of nationhood and borders as both raced and gendered. Professor Powell will argue that while commentators have rightly criticized the use of racial tropes in the immigration debate, what remains undertheorized is how gender intersects with race, for example, in the controversies over family separation and the rollback of asylum protections. Professor Powell will address this gap and explore how these intersectional tropes impact the legal rights of women and men, particularly through the unstable prisms of motherhood and masculinity.

Tuesday, October 15th, 2019
6:00 PM
Save to Calendar

University of Miami School of Law
1311 Miller Road, Room E352
Coral Gables, FL 33146


RSVP


Reception immediately following in the Alma Jennings Foundation Student Lounge

Louis Henkin, the prominent law professor at Columbia University School of Law, was one of the founders of the academic study of human rights and inspired a whole generation of human rights lawyers, scholars, and activists, including some of Miami Law's professors. In 2011, Miami Law created this lecture series in his memory.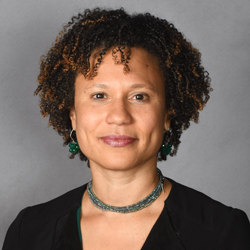 Catherine Powell is a Professor at Fordham Law School and Adjunct Senior Fellow in the Council on Foreign Relations, Women and Foreign Policy program. She previously served as a Director for Human Rights on President Barack Obama's White House National Security Council as well as a senior advisor on Secretary of State Hillary Clinton's Policy Planning Staff. Professor Powell began her career in the legal academy as a clinical professor on the faculty of Columbia Law School, where she was Founding Director of the Human Rights Institute and Clinic under the mentorship of Professor Lou Henkin.

Read more about Professor Powell



RSVP