MAY 2020
A message from Law Alumni Association President, Jason P. Kairalla, JD/MBA '02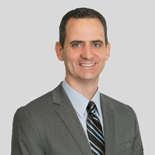 My Fellow Cane Lawyers:
At the time of this writing, we are all facing new challenges wrought by the COVID-19 crisis. I am proud of how our Dean, Anthony E. Varona, Miami Law and our alumni community have risen to these challenges. Faculty and students have transitioned to online teaching and learning, staff are working diligently from home, and the administration is keeping us up to date with the latest information via the web (https://www.law.miami.edu/coronavirus), emails and calls. Our alumni and volunteer boards are continuing their work via virtual meetings. We are here for one another. We are also here for our students, some of whom face financial hardship as a result of the crisis. With the economic impacts affecting the legal community, some students will not have the opportunity to intern or work over the summer. However, Miami Law believes that providing paid student faculty research assistant positions can fill this need in a way that is rewarding both to students and to the law school. In this capacity, students will enhance their research, writing, analytical and editing skills while simultaneously delving deeper into key areas of law and creating a solid professional mentor relationship with the faculty member. This initiative Will be funded through the Dean's Vision Fund/School of Law's Greatest needs. Please consider making a gift to the fund today to assist our Dean in providing work opportunities to our students. More details are below. Times like these prove we are truly a Miami Law family!
Even aside from the extraordinary global pandemic response efforts, I am so proud of all we accomplished this year. It was an honor to welcome our new Dean, Anthony E. Varona, and to get to know him through the interview process and his "listening and learning" meetings with alumni and other stakeholders. I can say, without hesitation, that Dean Varona shares our passion for the law and sees the limitless potential of our law school. He is a collaborative and charismatic leader who is diligently collecting and sharing great ideas for improving Miami Law. Thanks to the many individuals and organizations that hosted Dean Varona with small intimate lunches, and larger welcome and cocktail receptions in their firms and homes, both here in Florida and across the country.
Before he officially assumed his office on August 1, 2019, the Law Alumni Association introduced then Dean Designate Varona to our alumni and the broader legal community in June 2019 at The Florida Bar Annual Convention in Boca Raton. There, we honored three distinguished alumni: Richard Milstein, J.D. '73, Patricia A. Redmond, JD '79, and Detra Shaw-Wilder, JD '94.
Next, in July, we participated in a reception in Miami for admitted students hosted by Holland & Knight. In early fall, we traveled to New York City to visit several firms, and to celebrate with alumni from Spotify's headquarters at the top of World Trade Center Tower Four. Then, it was on to Washington, D.C. for an alumni reception at Holland & Knight where we honored Leila Batties, JD '98, and Assistant Dean Marni Lennon, JD '95, with Alumni Achievement awards. We ended 2019 with Dean Varona's investiture into the M. Minnette Massey Chair.
In mid-January, we hosted two law alumni events in Orlando, one for area alumni to meet Dean Varona, and the second in connection with Miami Law's 55th Annual Heckerling Institute on Estate Planning. On March 2, we hosted an alumni reception in downtown Miami honoring elected officials and members of the judiciary from Miami-Dade, Broward, and Palm Beach counties. At that reception, Miami Law presented Alumni Achievement awards to Florida District Court of Appeal Judges Spencer Levine, JD '82, and Monica Gordo, JD '99, and to United States Magistrate Judge Patrick Hunt, JD '85. In addition, we presented the Alumni Leadership Award to Broward County State Attorney Michael Satz, JD '67. Then, on March 6, we celebrated the awarding of the Judge A. Jay Cristol Endowed Chair in Bankruptcy Law to Vice Dean Andrew Dawson.
If you have been away from Miami Law, now is a great time to reconnect (virtually for now, in person once the COVID-19 crisis has passed). There is real energy here—in our world-class school and its faculty, in our incredible administration and staff, among our alumni, and (most importantly) in our students. Miami Law attracts and trains some of the world's brightest and most innovative law students. Please reach out to meet them. Also, consider mentoring and hiring them. You will not regret it.
Connect with your Law Alumni Association on the web, and on Facebook, LinkedIn, and Twitter. As always, you are welcome to contact me directly.
Please stay safe, look out for one another during these extraordinary times, and, of course, go 'Canes!
A MESSAGE FROM DEAN ANTHONY E. VARONA
& ASSISTANT DEAN MARCY COX
Dear Miami Law Alumni and Friends –
We hope that this message finds you and your family and colleagues healthy and well. We know that the COVID-19 pandemic has created unprecedented challenges for everyone, and we would appreciate a couple of minutes of your time and attention.
As you know, six weeks ago, Miami Law fully transitioned to online education in light of the COVID-19 crisis. Our students and faculty rose to the challenge and adjusted to the new electronic teaching and learning platforms as best as we could have expected given the circumstances. In addition to completing traditional courses online, students continued to fulfill their responsibilities to our clinical programs, externship field placements and other experiential offerings in a remote fashion.
As the semester comes to an end, students now are adjusting to the economic uncertainty brought on by the public health crisis and what it all means for their summer employment. In normal times, summer represents an opportunity for first- and second-year law students to gain practical experience and forge important new professional relationships. While some summer opportunities will move forward in a remote fashion, others are no longer possible due to employers' changed circumstances.
In communicating with students, we hear repeatedly that their top priority is to gain experience, even if in a nontraditional format, and to build their professional networks. Although Miami Law has expanded its summer course…(Continue reading here)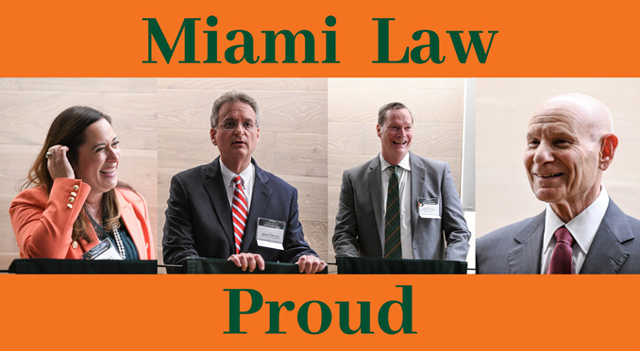 Judges Monica Gordo, JD '99; Spencer Levine, JD '82; Patrick Hunt, JD '85; and Broward County State Attorney Michael Satz, JD '67, were honored at the annual Law Alumni Association Miami-Dade, Broward, & Palm Beach Judicial Reception.
Florida District Court of Appeal Judges Monica Gordo, JD '99; Spencer Levine, JD '82; and United States Magistrate Judge Patrick Hunt, JD '85, received Miami Law's Alumni Achievement awards, and the Alumni Leadership Award was presented to Broward County State Attorney Michael Satz, JD '67. The event was held on March 2, 2020 at MiamiCentral, overlooking the skyscrapers of downtown Miami. Attendees from Broward and Palm Beach traveled to the reception via a private Brightline coach.
Francesse Lucius, JD '14, is keeping busy! She's currently a Fellow in both The Florida Bar's Class VII Leadership Academy, and Dade Legal Aid's Leadership Academy, as well as President of the Haitian Lawyers Association, to which she was virtually installed on April 19th. And if that's not enough to keep her on her toes, Francesse and her husband, Gregory Cheron, are expecting their first child this month!

---
Jamie Webner, JD '13, and her fiancé, Ben Katz, didn't let a little thing like Miami's coronavirus quarantine stop their wedding plans! They just got creative, and were married on their balcony, with family and friends joining via Zoom, and their neighbors witnessing from their nearby balconies!

---
Jason Frederick Emert, JD '14, and his wife, Lauren, have grown their family. They welcomed their new baby boy, James Armand Emert, into the world on April 6th

---
Zak Colangelo, JD '14, has co-authored, with Professor Michael Froomkin, a paper titled "Privacy as Safety" for the Washington Law Review, Forthcoming.
BE ON THE LOOKOUT FOR ALUMNI PROFILES IN OUR UPCOMING ONLINE MAGAZINE
ALUMNI ORAL HISTORY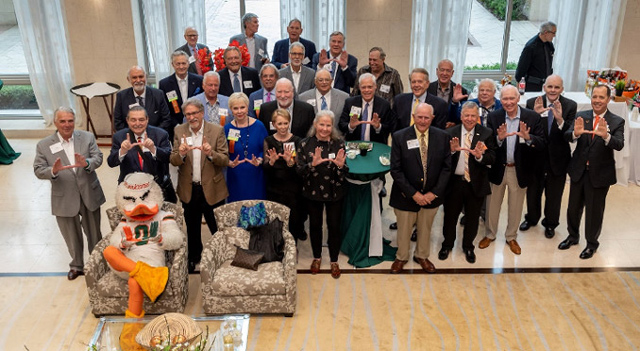 Class of 1969's 50th Year Reunion
The Class of 1969 held their 50th year reunion on Friday, May10, 2019. Mark F. Raymond, JD '83, then-President of the Law Alumni Association, welcomed the members. Thomas R. Spencer, JD '69, offered remarks on behalf of the class, speaking of the times and the changes they've seen since then. Joan A. Berk, JD '69 was Master of Ceremonies, while members of the class shared their recollections with each other for this video.
FACULTY GOOD NEWS
Caroline Bettinger-López, Human Rights Clinic Director, Joins New Commission to Investigate Gender-Based Violence. According to the World Health Organization, one in three women worldwide will suffer physical or sexual abuse in their lifetime, which equals about one billion women and girls alive today. Nearly a quarter of all adults worldwide report physical abuse as children, and the lifetime prevalence of childhood sexual abuse is nearly 20 percent for girls and almost 10 percent for boys. Miami Law's Bettinger-López joins Felicia Marie Knaul, director of the Institute for Advanced Study of the Americas, on a new Lancet commission that will examine gender-based violence and maltreatment of young people.
---
UPCOMING EVENTS – ONLINE / POSTPONED / CANCELED
LWOW Sprint 2020 KickOff
Sprint 2020 was postponed until October 2020, but LWOW utilized the original first day of Sprint (Friday, 17 April) to hone online collaboration skills as a community and in teams. (Click here for details).
---
Celebration of the appointment of Michele DeStefano as the Larry J. Hoffman, Greenberg Traurig Distinguished Professor in the Business of Law
Postponed. New date TBA
---
Miami Law Mojitos and Mambo Mixer at the AALS Conference in Orlando
May 5– Canceled. A big thank you to Black Mountain Group LLC and Upchurch Watson White and Max who were sponsoring the reception.
---
Class of 1970's 50th Year Reunion
Postponed. New date TBA.
---
Miami Law Commencement Ceremony
Postponed to Friday, December 18, 2020.
---
Annual Florida Bar Convention
Hilton Orlando Bonnet Creek, Orlando – currently scheduled for June 17-20, 2020. Check here for updates.
---
Homecoming Weekend
November 5 – 7, 2020
---
Keep an eye on your inbox, mailbox, and social media feeds for updates on these events!
Promote your firm or business at our events. Sponsorship opportunities available!
Contact the office of Law Development and Alumni Relations for details and forms: alumni@law.miami.edu or (305) 284-3470.
WITH GRATITUDE:
The Richard J. Ovelmen Endowed Memorial Scholarship
Born in La Porte, Indiana, and a graduate of the Yale Law School, Richard J. Ovelmen was an adjunct professor at the University of Miami School of Law, and a renowned lawyer. He is remembered as an outstanding constitutional advocate who was passionate about the First Amendment, media, and open government law. He championed those causes through his legal work, as well as through his efforts as a professor, lecturer, and colleague. He was a mentor to many, and known to be always willing to invest his time for the good of others. Throughout his distinguished legal career, Rick was general counsel of the Miami Herald, and an attorney at the law firms of Paul & Thomson, Baker McKenzie, Jorden Burt, and Carlton Fields. To celebrate Rick's legacy, his family, friends, and colleagues are establishing an endowed scholarship fund in his honor at the University of Miami School of Law. The fund will be a perpetual legacy at Miami Law, ensuring that generations of Ovelmen scholars will learn and be inspired by his life and work.

A message of gratitude from Dean of Students, Janet Stearns, regarding the School of Law's newly established Student Emergency Fund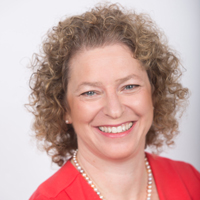 On behalf of the Miami Law community, let me thank you for your generous donations to the University of Miami School of Law Student Emergency Fund.
As the COVID-19 shutdowns began, I heard from students with terrible stories of hardship. Students who were holding down part-time jobs to make ends meet through law school, supporting family members with medical conditions and with little room to spare for food and rent. The loss of part-time jobs due to the current situation created crisis situations for these students. We wanted to do whatever we could to assist with basic needs.
With the support of the University of Miami School of Law Student Emergency Fund, our first priority was funds for groceries. We purchased grocery gift cards and delivered to students as needed. We also had some requests relating to devices to help students connect to our new online teaching platform.
I remain hopeful that we will look back on this time with the knowledge that the UM family united to provide for each and every one of us. Thank you from the bottom of my heart.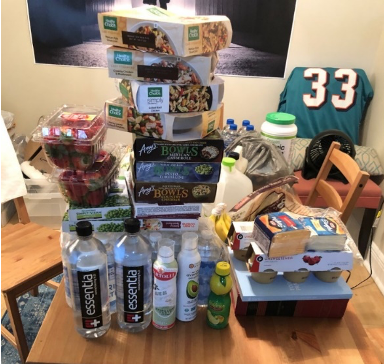 Just one example of the groceries $100 can buy
Janet Stearns
Dean of Students and Lecturer
University of Miami School of Law
Caren and Peter Prieto Endow a Scholarship
Caren and Peter Prieto, JD '85, have established an endowed scholarship to benefit first-generation college students or first-generation law school students with high academic merit, who are members of one of the school's law reviews or the Moot Court Board.
"My parents never graduated from high school, let alone college, but throughout my childhood they emphasized the importance of an education. Whatever success I may have achieved is, in large part, due to their advice and the education I received, especially at the University of Miami School of Law. Caren and I want to provide that opportunity to first generation college students or law students who are driven to excel," says Peter Prieto.
The couple, members of the Law Parents and Partners Committee, are parents to first-year law student David Prieto. The committee supports the health and wellness of the law school student body.
Peter Prieto, a partner at Podhurst Orseck, is lead plaintiffs' counsel and helped litigate the largest, and ongoing, multidistrict automotive recall in U.S. history over defective Takata airbags. The actions against nearly all automakers was on behalf of more than 40 million plaintiffs; $1.5 billion has been collected in settlement awards to date.
His more than 30-year career spans work as a federal prosecutor in Florida and Washington, D.C., and as an executive partner at Holland & Knight, where he served as chair of the firm's 400-lawyer litigation section, prior to joining Podhurst Orseck. His current practice focuses on complex commercial litigation, class actions, and white-collar criminal defense.
The Cuban-born Peter Prieto is a first-generation college graduate, whose working-class parents taught him the value of an education and provided him with a thirst for learning. The Prietos want their scholarship to enable deserving students to receive a law school education.
In addition to David, Caren and Peter have two other children; Isabella, a junior at NYU, and Daniel, a high school senior who is on the Autism spectrum. "Our goal is to be able to help one deserving student at a time receive a quality legal education. If we're able to do that over a span of 20 or 25 years, we're hopeful that we can touch many young lives and provide a platform for future, successful lawyers," says Peter Prieto.
PLANNING A LEGACY IN A TIME OF CHALLENGE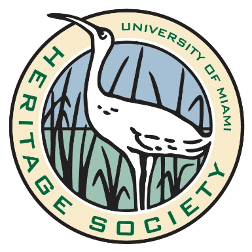 The generosity of alumni and friends has nurtured Miami Law for more than nine decades, making possible extraordinary achievements in education and public service. Members of the Heritage Society, those who commit to leaving an estate or planned gift to the School of Law or the University of Miami, forge a personal legacy at the U whose impact will be felt for generations to come.
In this time of great challenge, careful planning is more critical than ever. The University of Miami's Office for Estate for Estate and Gift planning provides clear information and updates on the current changes in law as a result of the novel coronavirus pandemic that may affect charitable giving. Please visit here to learn more or write to us at alumni@law.miami.edu with questions about becoming a Heritage Society member.
THIS WAS SENT BY:
University of Miami School of Law Office of Alumni Relations and Development
Alma Jennings Foundation Suite, C319
Robert E. Dooley Building
1311 Miller Drive, Coral Gables, FL 33146
E-mail: alumni@law.miami.edu Phone: 1.866.99.UMLAW
Having trouble reading this e-mail? View as a webpage