March 2019
A message from Law Alumni Association President, Mark F. Raymond, JD '83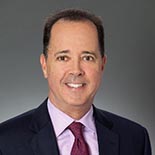 As you have no doubt heard by now, our beloved Dean, Patricia D. White, is stepping down from her post at the end of June 2019. She has served here as Dean for 10 years, beginning her tenure as the University of Miami School of Law's 11th dean in 2009. She declared her intent that the School become "a model of what legal education can look like going forward in the 21st century in a multicultural and global world."
Under her leadership, Miami Law has gained increasing recognition as one the world's most innovative law schools, earning distinction for specialty areas such as its music law and technology programs. Committed to student development and public service, Dean White has significantly expanded student services offerings, with unique programs and initiatives such as LawWithoutWalls and more than doubled the number of clinics designed to provide experiential learning opportunities for our students who advocate for access to legal aid for some of the most vulnerable constituents in our community. She is widely acknowledged as one of the world's most influential and pioneering legal educators, and continues to be an industry thought leader. Dean White currently chairs the American Bar Association's Commission on the Future of Legal Education, which is leading the effort to anticipate, articulate, and influence dramatic changes in the legal profession in the next decade and beyond.
Prior to coming to Miami Law, she served as Dean for 10 years at the Sandra Day O'Connor College of Law at Arizona State University. Dean White stated in her retirement announcement, "When I stepped down at ASU I wrote that I thought that an institution is seldom best served by having the same Dean for more than 10 years. I still believe that. Good institutions must avoid becoming complaisant and they benefit from the challenge of welcoming and confronting new energy."
President Frenk has appointed a Search Committee for the next dean of our School of Law.

The executive search firm Korn Ferry has been chosen to work with the committee to identify suitable candidates for the position.

A retirement party for Dean White is being planned for May 17, 2019 in Miami.

In honor of her 10 years of leadership and service, we have established the Patricia D. White Dean's Endowment to Support Excellence in Innovation. Click here for details and to donate!

Here are links to just a few of the innovations and accomplishments by Miami Law under Dean White's leadership:
JD '53 Contributes $1.1 Million Gift to Advance Scholarship and Innovation – Building Named in Honor

Miami Law Picks Up High Rankings for Innovation in PreLaw Magazine + Others

LawWithoutWalls Receives Innovative Curriculum Award from International Association of Law Schools
ALUMNI MOVERS
Craig Robins, JD '87, is Making Waves

Some developers recognize the coming wave and ride it. Craig Robins is one of the few who make the wave. From the 1980s onward, the Miami Beach native and University of Miami law grad led the redevelopment of South Beach Art Deco landmarks, integrating his love of art with residential and mixed-use projects. As president and CEO of real estate developer Dacra, he built real estate and, through public events, a community style that won attention nationally and internationally.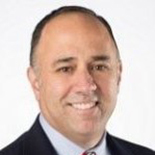 Jorge Gracia, JD '90, Appointed as New Board of Trustees Member for Delta Dental of New Jersey

Mr. Gracia was previously chief legal and chief compliance officer at Sprint Corporation. With a legal career spanning nearly 30 years, Jorge has garnered significant experience assisting board and C-suite executives with navigating complex transactional, regulatory, compliance, and ethics issues.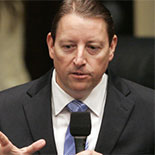 Bill Galvano, JD '92, Sworn in as Florida's 88th Senate President

Sen. Bill Galvano, R-Bradenton, was unanimously elected president of the Florida Senate for the 2018-2020 legislative term. Elected to the Florida Senate in 2012 and reelected subsequently, Galvano currently represents Senate District 21, which consists of Manatee County and part of Hillsborough County.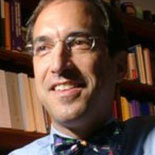 Benedict Kuehne, JD '77, Tapped for Nikki Fried's Transition Team

Once elected, Fried appointed Kuehne to the role of general counsel on her transition team, where he will assist Fried with the complex set of legal compliance issues that apply to government officials. "When somebody is an official elect, that person then becomes subject to Florida's public records law and the whole host of laws that apply to executive branch agencies," Kuehne said.
Xavier Cortada, JD '91, Elected Chairman to the Miami Dade County Cultural Affairs Council

Mr. Cortada, a professional artist, will lead efforts by the board, appointed by the Miami-Dade County Commission to develop cultural excellence, diversity and participation in the arts by creating and promoting opportunities for artists and cultural organizations throughout Miami-Dade County. Mr. Cortada's art focus is on social engagement and the environment.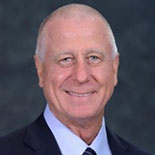 Robert A. Spottswood, JD '82, Elected Chairman of Florida Fish and Wildlife Conservation Commission

Mr. Spottswood has served on the Commission since September 2015, most recently as vice chairman. He is the chief executive officer of Spottswood Companies Inc. He currently serves as a member of the Third District Court of Appeals Judicial Nominating Commission and formerly served on the Governor's Commission on Healthcare and Hospital Funding.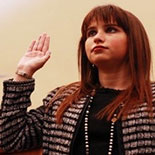 Haley Moss, JD '18, Is Admitted to the Florida Bar Twenty-One Years After Her Autism Diagnosis

Her doctor said she might never fully speak. In May, she gave the commencement speech at the University of Miami School of Law. Click here to watch a brief interview by WPLG Local10 news.
The Honorable Bronwyn Miller, JD '97, appointed to the Third District Court of Appeal

The Honorable Bronwyn Miller, of Coconut Grove, is an 11th Circuit Court Judge. Outgoing Gov. Rick Scott appointed Miller to the court on December 13, 2018, to succeed Leslie Rothenberg, who retired in January 2019. Miller was a judge on the 11th Circuit Court from 2010 to 2019.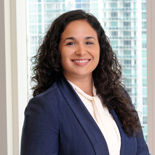 Nicole Chipi, JD '18, Wins 1st Place in Prestigious Legal Writing Competition

Nicole Chipi, an associate in Jones Day's Miami Office, won the 2018 Brown Award for Excellence in Legal Writing for her paper, "Eat Your Vitamins and Say Your Prayers: Bollea v. Gawker, Revenge Litigation Funding, and the Fate of the Fourth Estate." Ms. Chipi will receive $10,000, and a $5,000 donation will be made to the scholarship fund designated by University of Miami School of Law Dean Patricia White, who selected the paper for nomination.
Alan Bell, JD '79, Devastated by Office Chemicals, Helps Others Fight Toxic Torts

Bell's book, Poisoned: How a Crime-Busting Prosecutor Turned His Medical Mystery into a Crusade for Environmental Victims, relates how, despite his precarious health, he began collaborating with top scientists dedicated to raising awareness about this issue and finding treatments. He collaborated with toxic tort lawyers, including some connected to the true stories depicted in the films Erin Brockovich and A Civil Action, to help other victims win justice in court.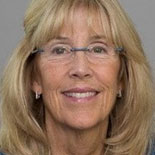 Patricia Redmond, JD '79, Received the 2019 Tobias Simon Pro Bono Service Award

Patricia A. Redmond, J.D. '79, Director of The Eleanor R. Cristol and A. Jay Cristol Bankruptcy Pro Bono Assistance Clinic at Miami Law and champion of pro bono legal service since the 1970s, is the recipient of the 2019 Tobias Simon Pro Bono Service Award, the highest statewide pro bono award. The award will be presented by Chief Justice Charles T. Canady in a Feb. 7 ceremony at the Supreme Court of Florida in Tallahassee.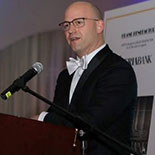 Philip Gold, JD '06 sworn in as President of the Miami-Dade Trial Lawyers Association

Mr. Gold was sworn in by the Hon. R. Fred Lewis, JD '72, as the new president of the Miami-Dade Trial Lawyers Association on Saturday, February 9, 2019. His dedication and passion for justice will help further the organization's goal to actively pursue every citizen's individual rights, justice and access to our courts.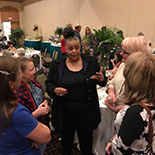 Sheila Chamberlain, JD '96, Keynote Speaker at the Unsung Heroes Annual Appreciation Dinner Salute, Honoring African American Veterans

Ms. Chamberlain is the Army's first African American female combat intelligence pilot and a National Organization of Black Aerospace Professionals Aviation Hall of Fame Pioneer and Inductee, and the first female pilot ever elected to the National Tuskegee Airmen, Inc. as its National Parliamentarian.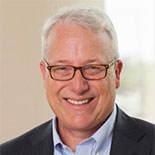 James T. Deiotte, JD '88, New Executive Director of the Master of Professional Accountancy Program at Rady School of Management at UC San Diego

Deiotte's storied career encompasses a strong background in financial reporting and international tax law. With his wide-range of experience, Deiotte brings a rich and diverse skill set to the MPAc program, as well as a passion for inspiring students to explore a career in accounting. See also this alumnus profile on James from 2018.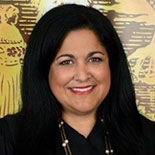 The Honorable Bertila Soto, JD '89, Re-Elected to Fourth Term as Chief Judge

The Eleventh Judicial Circuit is pleased to announce that the Honorable Bertila Soto was re-elected – without opposition – to a fourth two-year term as Chief Judge. She is the first female and first Hispanic Chief Judge in the history of the Eleventh Judicial Circuit. Judge Soto was first elected to the bench in 1997 as a County Court Judge, then was appointed to the Circuit Court in 2002 by then-Governor Jeb Bush.
Roy Black, JD '70, Featured on Cover of Attorney At Law Magazine: Educate From Within

Attorney at Law Magazine Miami Publisher Rhenne Leon sat down with Roy Black of Black, Srebnick, Kornspan & Stumpf, P.A., to discuss his career, his inspiration, and his plans for the future.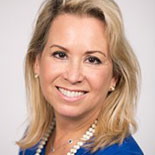 Listen to alumna Celeste Higgins, JD '90, Associate Director of the Litigation Skills Program in a recent Miami Law Explainer podcast

Longtime federal public defender, and now associate director of the litigation skills program at Miami Law, Higgins dives deep into the Jeffrey Epstein deal that saw him escape a long sentence, his victims, and the political fallout.
NEW SCHOLARSHIPS AT THE SCHOOL OF LAW
Thank you to our generous donors for their assistance to future advocates and lawyers!

The Caren and Peter Prieto, JD '85 Endowed Scholarship

The Alan S. Ross Memorial Endowed Scholarship, to provide assistance to students in the Litigation Skills Program.

The Ray H. Pearson Memorial Scholarship, to provide assistance to students with an interest in family law.